BOAT ELECTROFISHING SYSTEMS
We design and fabricate our equipment to your needs. We have a proven track record for having high quality equipment which is strong, durable, and efficient. We don't have a factory pushing the equipment down the line. Each piece is made by our employees and we believe in the personal touch. Our customers see this with our daily pictures of their boats. Our sales team makes sure you get what you want and are happy with it. No matter what it is, if you need booms, arrays, mini-boat, or tote barges we can fabricate it.
---
---
Oquawka Mini boat / push barge
Oquawka Mini Push Barge will be made from Aluminum. The barge will be light, heavy duty, and durable for when you need to get out of your boat, and have too much to carry. We are in the process of developing a mini boat that you can put your equipment in and be accessible. The mini boat will float with you while you are sampling over a wide range of water conductivity, therefore freeing your hands so you can do the work, and lighten your load. This allows you to move smoother and quicker in the water.
---
We work with ETS for our Electrofishing needs.
Quality is our first priority from the moment we begin designing your system. We specialize in tailoring systems to meet our customers' unique needs by selecting proven components, fully testing the system, and providing customer support that goes beyond the final inspection.
Dependable, Efficient Equipment from ETS Electrofishing Systems
http://etselectrofishing.com/products/boat-electro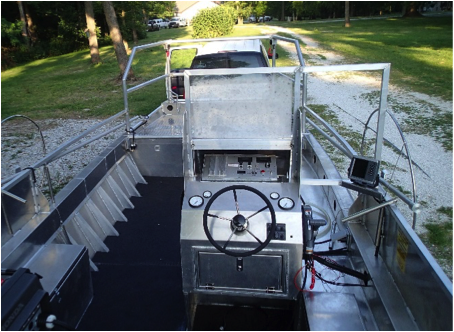 MBS™ and Trident Boat Electrofishing Series are 240 VAC generator-powered electrofishing systems that are a powerful tool for accurate sampling over a wide range of water conductivity. Proven and trusted performers, ETS equipment was developed with technical support from the University of Wisconsin, U.S. Fish & Wildlife Service, Wisconsin Department of Natural Resources, and many other federal and state agencies.
ETS Electrofishing Systems has provided quality boat, stream barge, and backpack electrofishing units to federal, state, and private agencies for over 25 years. We offer customized equipment with short lead times at the most competitive prices in the industry.
More than 900 of our systems are in service in the United States, Canada, Mexico, and Australia, including over 300 boat systems. ETS control boxes are fully and quickly repairable. We offer a RUSH REPAIR OPTION at no added cost.
The USFWS completed a comparative evaluation of electrofishing control boxes, available online. Based upon that evaluation and recommendations from other agencies, a consortium of three western states have standardized on our unit for the Colorado River Recovery project. They currently have 28 boxes in use. The states of Illinois , Wisconsin, and other states have also standardized on our boxes for most regions.
All ETS Electrofishing systems are customizable to meet your organization's needs. See detailed specifications and descriptions of our lake electrofishing equipment below. Boat hulls, booms, droppers, generators, and more are available through our custom boat manufacturers – we can supply a total system. All systems include a limited one-year parts and labor warranty.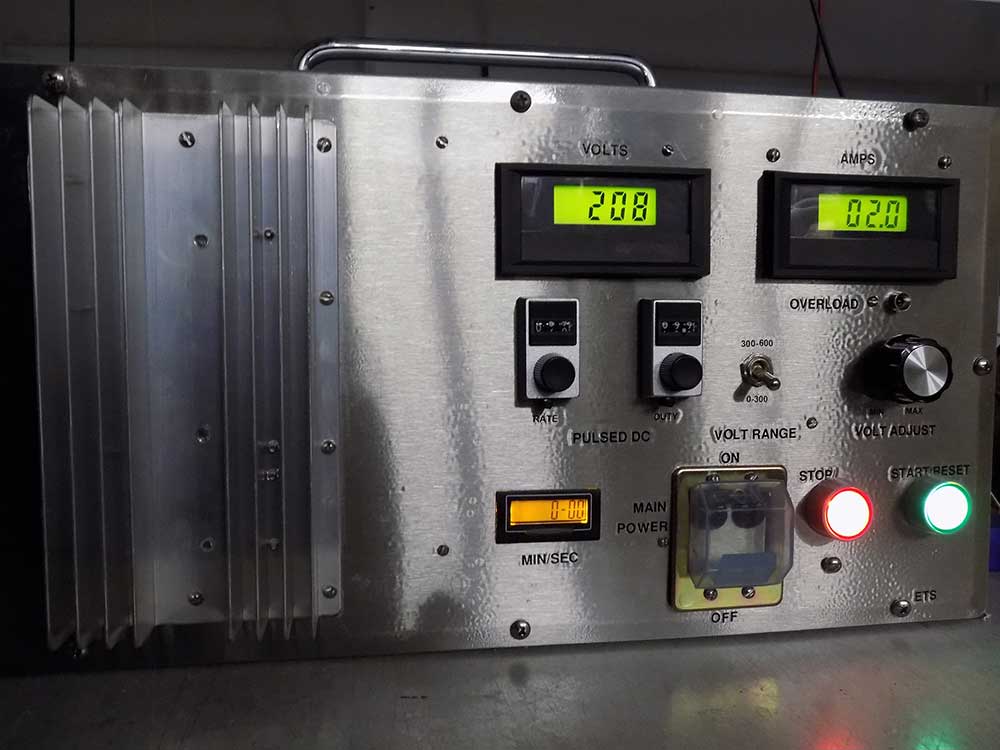 POWERFUL
Maximum power output over 25kW with 82 peak amp current option
Rectangular wave pulsed DC or DC/AC versions available
VERSATILE
PRECISE adjustment and accurate peak metering of voltage and current
All parameters continuously adjustable – capable of high rate pulsing
Pulse rate 1-1000HZ – Duty cycle 1-100% – Up to 1000 Vpeak DC/480 VAC
Backlit digital display and resettable backlit shocking time display
CUSTOMIZABLE
Boat hulls, booms, droppers, generators, and more available through our custom boat manufacturers
Easily customizable connectors and locations, multiple pads and footswitches
Only pay for what you need
SAFE
Safety control interlock circuit – Electronic and breaker over-current protection.
---